QuikcCalc works with elements
Fast and flexible with changes
Linking elements – positions: In practice, this means enormous TIME SAVINGS
Fast by working with elements with very little effort with the best traceability and attention to detail
to a list of services according to LB-HB or according to construction stages
to a calculation-dependent building description
to a cost estimate according to ÖN B1801 comes.

to hourly targets
---
The intelligent solution for a fast quote bill of quantities
Behind QuickCalc stands a simple profile of requirements. To create a quick, exact and above all, efficient way as well as bills of quantities for tenders as well as offers or cost estimates.  In addition, the post-processing should be easy and can be done without much effort. The highest value is placed on absolute practicality, ease of use and maximized workflows
---
Elements/structures can be designed extremely flexibly and in a variety of ways, now also using variables and conditions:
Comprehensible mass determination:
Existing positions of the user can be read via Excel:
Analysis of the most relevant positions of a project
Each position can be stored with several prices from different manufacturers
Automatically generated building description
can also be stored with graphics:
Evaluations can be customized (e.g. quantities+prices on/off, fonts,…)
Extremely user-friendly and logical operation
very easy to learn
Informative, modern interface, partially customizable by users
the always available option not to include parts of the already calculated service in the offer; e.g. only the shell can be included in the offer, although the complete services have been calculated.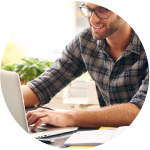 THE SOFTWARE